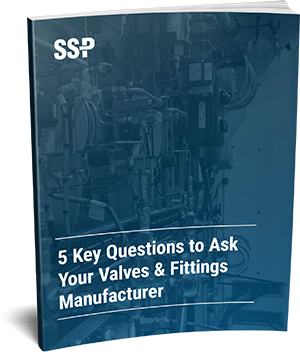 The SSP team recommends several questions that are vital to ask when choosing a manufacturer to partner with. The following ebook discusses the five key questions you can ask to avoid common pain points and find a manufacturer who will provide the maximum value and service for your components.
To determine the right fittings and valves manufacturer for your needs, it is vital to take the time to understand their capabilities and limitations. Working with a subpar manufacturer increases the chances of encountering a number of negative scenarios, including delays due to long lead times and low quality parts. A mediocre manufacturer may also fail to offer any ongoing support, online resources, or product training.
In this guide, you will find insights regarding:
Certifications and Standards
Materials Used
...and much more!
Download your copy today!