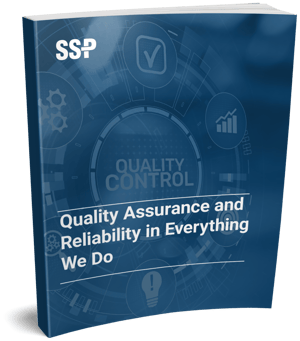 At SSP, we're proud to maintain complete control over our production process through vertical integration and supply chain partnerships. This allows us to ensure the highest levels of quality at every step of the way, from raw materials to finished products. By having our own in-house manufacturing, engineering, and testing capabilities, we're able to provide our customers with greater flexibility, and faster turnaround times. Our vertical integration is a key factor in our ability to deliver exceptional value to our customers.
In this eBook, you will learn more about our quality assurance metrics, certifications, warranty, and safety and delivery guarantees.
Download your copy today!